Mon, 12 October 2020 at 4:55 pm
The Shyn Sonic Rechargeable Toothbrush Is Something to Smile About
Every smile tells a story. What's yours? The Shyn Sonic Rechargeable Toothbrush wants to make your smile—and your story—the best it can be. If you're still using a disposable toothbrush, let Shyn help you make the sustainable and more effective switch for your smile, your bank account, and your planet, once and for all. And now, at an unbeatable price, you've got no reason to wait any longer.
The Shyn Sonic Rechargeable Toothbrush Difference
Shyn's award-winning ADA-approved toothbrush is engineered for form and function. Last year it won both People Magazine's Travel Award for Best Electric Toothbrush and Wired Magazine's favorite electric toothbrush.
This sonic toothbrush delivers more than 31,000 brush strokes per minute, a pressure sensor, built-in timer, five intensity levels, and four cleaning modes: Clean, White, Sensitive, and Massage. Shyn's intuitive pressure sensor lets you know when you're brushing too hard, so you avoid causing gum recession.
A Price to Smile About
Shyn works hard to give you that power smile. And it'll give you another reason to smile, too: the price. The Shyn Sonic Rechargeable Toothbrush is priced at a 55% discount, now just $52.99. That's an incredible savings! Ready to get that gorgeous smile? Check out the deal and get yours now.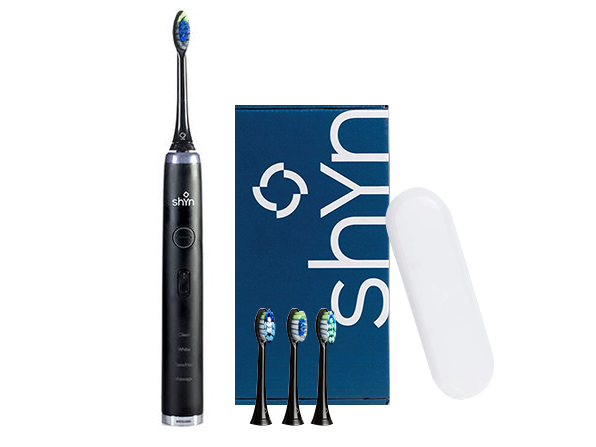 Shyn Sonic Rechargeable Electric Toothbrush with Assorted Brush Heads, Charger & Travel Case (Midnight Black) – $52.99
See Deal
_____________
Disclosure: Each product has been independently hand curated by our editorial team. Some products on this site use affiliate links and we may earn commission for any purchase made through the links.
Photos: StackCommerce Posted to:
Shopping